Welcome to our informative article on the various applications of liquid filling machines! If you're inquisitive about the diverse uses and benefits of these fascinating devices, you've come to the right place. Whether you are a business owner, a researcher, or simply curious, delving into the applications of liquid filling machines can open up an exciting world of possibilities. In this article, we will explore how these machines are revolutionizing industries such as pharmaceuticals, cosmetics, food and beverage, and more. So, sit back, relax, and indulge yourself in the captivating realm of liquid filling machines.
to Liquid Filling Machines – XTIME at the Forefront of Innovation
Liquid filling machines have become an integral part of various industries, streamlining production processes and ensuring accurate and efficient filling of liquids into containers. XTIME, a pioneering company in the field, has revolutionized liquid filling with their advanced technologies and cutting-edge solutions. In this article, we will delve into the diverse applications of liquid filling machines and highlight how XTIME has been driving innovation in this domain.
Optimizing Beverage Production – Filling Machines for Bottling and Packaging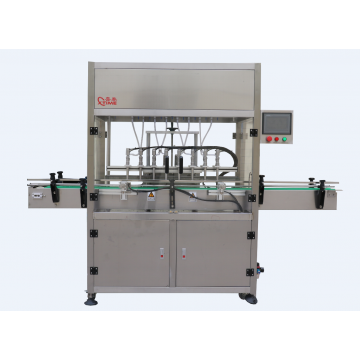 One of the primary applications of liquid filling machines lies in the beverage industry. Whether it's carbonated drinks, juices, or dairy products, XTIME's liquid filling machines offer high-speed and precise filling for bottling and packaging processes. By significantly reducing downtime and human error, these machines ensure consistency and quality in every bottle, enabling beverage manufacturers to meet the demands of a competitive market efficiently.
Pharmaceutical Advances – Precision Filling for Medicines and Healthcare Products
In the pharmaceutical industry, where accuracy and reliability are paramount, liquid filling machines play a crucial role. XTIME's liquid filling technology facilitates precise dosing and filling of medicines, ensuring the correct dosage in each vial or container. This precision extends to healthcare products such as syrups, ointments, and creams, providing patients with consistent and reliable healthcare solutions while helping pharmaceutical companies meet stringent regulatory standards.
Personal Care and Cosmetics – Enhancing Efficiency and Aesthetics
Liquid filling machines have become indispensable in the personal care and cosmetics industry. From lotions and creams to shampoos and perfumes, XTIME's liquid filling machines offer efficient, hygienic, and aesthetically pleasing solutions. These machines are designed to handle a wide range of viscosities, ensuring consistent product flow and preventing spills or wastage. With customizable options for bottle shapes and sizes, XTIME enables personal care and cosmetics manufacturers to deliver their products with elegance and precision.
Industrial Chemicals – Handling Hazardous Materials with Safety and Precision
The handling and packaging of industrial chemicals require utmost precision and safety measures. XTIME's liquid filling machines excel in this domain, providing accurate filling and precise control over potentially hazardous materials. With advanced technologies like leak detection and contamination prevention, these machines ensure the highest level of safety in chemical production lines. XTIME's liquid filling solutions empower industries dealing with chemicals to optimize their processes while maintaining stringent safety standards.
XTIME and the Future of Liquid Filling Machines
As we have explored the diverse applications of liquid filling machines, it is evident that XTIME stands at the forefront of innovation in this field. With their expertise in developing advanced technologies, XTIME continues to enhance efficiency, accuracy, and safety across industries ranging from beverage production and pharmaceuticals to personal care, cosmetics, and industrial chemicals. As technology advances, XTIME remains committed to revolutionizing liquid filling machines, opening up new possibilities for the manufacturing sector and driving progress in various domains.
Conclusion
In conclusion, liquid filling machines have proven to be invaluable in a wide range of applications. From the food and beverage industry to pharmaceuticals and cosmetics, these machines have become essential in ensuring efficient and accurate filling processes. They have revolutionized production lines by increasing speed, reducing wastage, and improving product quality. Moreover, liquid filling machines have also played a crucial role in ensuring the safety and hygiene of the products. With advancements in technology, these machines continue to evolve, offering innovative solutions to meet the diverse needs of various industries. As the demand for precise and automated filling processes continues to grow, liquid filling machines will undoubtedly remain at the forefront of modern manufacturing.