This high speed single diameter can sealing machine is designed with reasonable and simple operation panel, PLC microcomputer control and toch screen human-computer interface.The tin cover spreading device,only when the tin body get into,the tin cover come down to match.If no tin body get into,then no tin cover come down.Besides, sealed reels are made of chrome steel, high hardness, excellent wearability, never rusty and  excellent sealing performance. Its production speed can be adjusted according to your needs.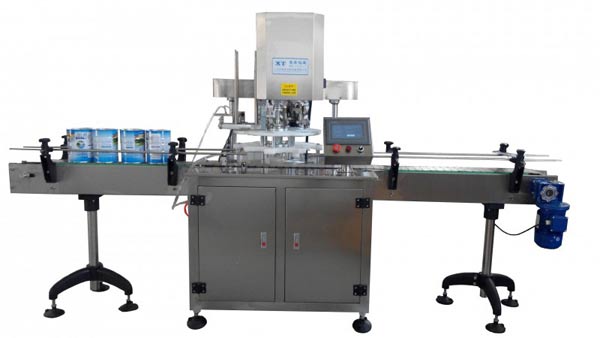 Feature description:
1) Unmanned operation, totally automatic place cover and sealed. It will become the main trend of machine as the labor cost is increasing. 
2) The can is designed as not rotating during the sealing process. It requires high processing precision. Its sealing quality is superior to that of similar products in China. 
3) Its production efficiency is three to four times than semi-automatic sealing machine. This high speed can sealing machine places and seals the tin cover automatically so that it improve the production efficiency and labor cost.
4) Applicable for sealing of various tin cans, such as aluminum cans, paper cans and all kinds of round cans. Simple in operation, and it is an ideal equipment of food, beverage, pharmaceutical and other industries.