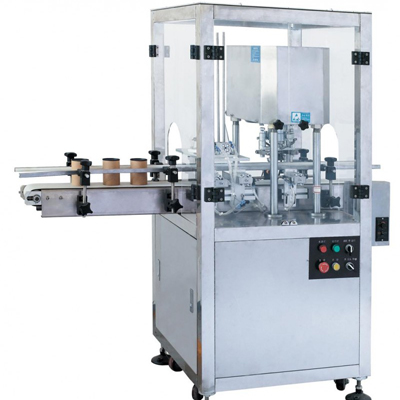 GuangzhouXTime Packaging
Equipment Co.Ltd., founded in September 2007, is specialized in manufacturing
and sales of various packing equipment for quantificational filling,
sealing and labeling. Today we will recommend you a high quality and low-cost can
sealing machine -Multi-diameter
fully automatic sealing machine for paper can.
Multi-diameter
fully automatic sealing machine for paper can is fully automatic, which can
help you to save labor cost. The sealing speed can be up to 25 cans/min. It is
multi diameter design , suitable for many diameters demands, and is easy to
adjust the diameter. The can body non rotary design is better to protect your
products. This machine has a perfect sealing performance and it is fit for
various round tin cans, aluminum cans, paper cans and PET cans. It is an ideal
equipment of food, beverage, pharmaceutical and other industries.
The product
details are below:
Model: XT-FGJ100D
Material: Stainless steel
Qty of
sealing head: 1
Sealing
speed: 20~25pcs/min.
Height of
sealing: 50-200mm, adjustable
Dia. of
applicable bottle type: 50-125mm (multi-diameters can be used)
Voltage: 220V, 50Hz
Electricity
power: 310W
Weight: 200KG
Size: 1500(L)* 800(W)* 1500 (H) mm (including 1.5m conveyer belt)
Lead time: 20 days after receive deposit and empty cans
Production
capacity: 100 sets per month
Payment
terms: TT (30% before production, 70% before shipment)
Warranty: 1
year
FOB Guangzhou: USD5100
Want to know
more can
sealing machine or our company XTime, please visit www.xtpackagingmachine.com.